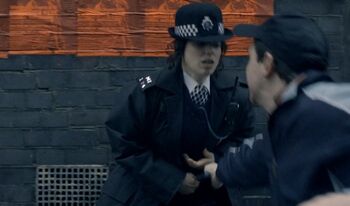 The year 1995 was the 95th year of the 20th Century and the 995th year of the 2nd Millenium.
Death of Sharon Granger
Edit
In reality, Sharon Granger was not a police officer in the 1980s but a WPC for the Metropolitan Police Service in the year 1995. While trying to apprehend a man attempting to steal a car (Ford Sierra Sapphire) using a screwdriver, WPC Granger was stabbed with the screwdriver and died of blood loss. However, she awoke in Gene Hunt's World in 1980 as a WPC of Fenchurch East police station. (A2A Series 3: Episode 8)
Ad blocker interference detected!
Wikia is a free-to-use site that makes money from advertising. We have a modified experience for viewers using ad blockers

Wikia is not accessible if you've made further modifications. Remove the custom ad blocker rule(s) and the page will load as expected.