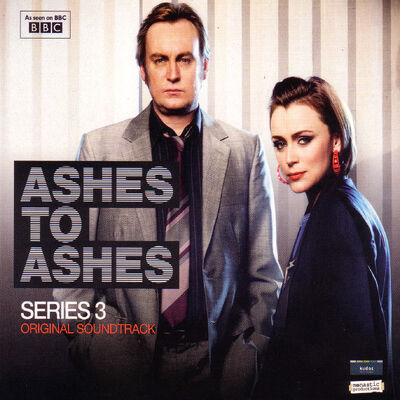 Ashes to Ashes: Series 3 Original Soundtrack is the third and final soundtrack album, released on April 12, 2010, featuring songs from Series Three of Ashes to Ashes including dialogues, instrumental songs and the title music that had been used since series 2. The record label of this soundtrack is owned by Sony Music. The soundtrack features another range of popular songs of the early 1980s (mostly 1983).
Interestingly, in some early track listings, Public Image Ltd.'s "This is Not A Love Song", as heard in Episode 2, is included after Tom Robinson's "War Baby". The final product does not include this song.
Ad blocker interference detected!
Wikia is a free-to-use site that makes money from advertising. We have a modified experience for viewers using ad blockers

Wikia is not accessible if you've made further modifications. Remove the custom ad blocker rule(s) and the page will load as expected.