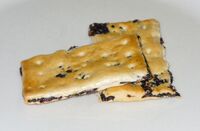 The Garibaldi biscuit is/was a popular biscuit in Britain, normally served with tea, which consists of currants squashed between two thin oblong biscuits.
In the British version of Life on Mars and its spinoff Ashes to Ashes, the Garibaldi is the favourite tea biscuit of DCI Gene Hunt, establishing his working-class credentials. It is also known for being one of the most preferred biscuits by people from Greater Manchester on the programme.
Ad blocker interference detected!
Wikia is a free-to-use site that makes money from advertising. We have a modified experience for viewers using ad blockers

Wikia is not accessible if you've made further modifications. Remove the custom ad blocker rule(s) and the page will load as expected.