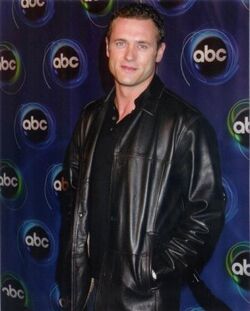 Jason O'Mara (born August 6, 1972) is an Irish-American actor who co-starred in the American television drama In Justice and went on to Terra Nova. He plays Det. Sam Tyler on the American version of Life on Mars.
He performed with The Royal Shakespeare Company. His theater work in London and Dublin included The Jew of Malta and Popcorn, and he was nominated for Best Supporting Actor in 2002 at the Irish Theatre Awards for his portrayal of John in Neil LaBute's Bash.
He appeared in Harold Pinter's The Homecoming in London and Dublin as well as Lincoln Center in New York. He has also starred in several other series, including The Agency, Band of Brothers, Monarch of the Glen, High Stakes, Playing the Field, The Bill, Berkeley Square, and Reach for the Moon. O'Mara plays Sam Tyler (originally played by John Simm) in the US remake of hit British show Life on Mars. The show premiered October 9, 2008 on ABC.
O'Mara's later work includes Terra Nova and being the animated voice of the Batman in several projects. In 2016, O'Mara began a run as Jeffrey Mace, the Season 4 Director of S.H.I.E.L.D. ON Agents of S.H.I.E.L.D..
O'Mara was born and raised in Sandycove in south Dublin, Ireland. He graduated from Trinity College, Dublin with a degree in drama. He married American actress Paige Turco in a Roman Catholic ceremony in Old Saybrook, Connecticut, USA, on September 2003; they have one child.
Filmography
Edit
Life on Mars (US version) as Det. Sam Tyler (ABC TV series 2008)
Grey's Anatomy as Philip (Where The Wild Things Are, Piece Of My Heart) (2008)
Marlowe as Philip Marlowe (2007)
Resident Evil: Extinction as Albert Wesker (2007)
Men In Trees as Stuart (2006)
Criminal Minds as Mill Creek Killer (2006)
In Justice as Charles Conti (2006)
The Closer as Bill Croelick (Fatal Retraction-2005, Controlled Burn-2008)
CSI: Miami as Dr. Keith Winters (2004)
The Agency as A.B. Stiles (2002-2003)
Monarch of the Glen as Fergal MacLure (2001)
Playing the Field as Lee Quinn (2001)
The Cassidys as Dominic (2001)
High Stakes as Greg Hayden (2001)
Band of Brothers as First Lieutenant Thomas Meehan III (2001)
Reach for the Moon as Ben Collier (2000)
The Bill as Richard Pallister (2000)
The Mrs Bradley Mysteries as Jake Hicks (1999)
Unfinished Business (1998)
Peak Practice as Billy Matters (1998)
Berkeley Square as Ned Jones (1998)
Cause Of Death (1997)
Gobble as the East Anglian Journalist (1997)
Soldier Soldier as the medic (1996)
Space Truckers as Chopper 3 (1996)
Elodie (1996)
Summertime as Father Pat (1995)
External links
Edit