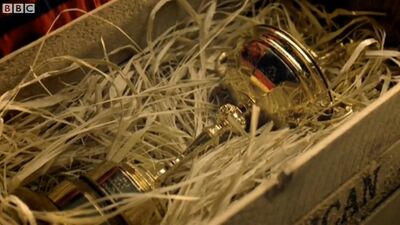 The Ryder Cup is the winning trophy of the biennial Ryder Cup golf tournaments between countries of Europe and the United States.[1] The majority of Ryder Cup tournaments have been won by the USA.[2]
1983 "theft"
Edit
In October 1983, the 1983 Ryder Cup tournaments were held in Palm Beach Gardens, Florida and the trophy was awarded to the American team once again. However, the cup was supposedly stolen days after and smuggled to Britain via Concorde. The cup was then given to entertainer Paul Daniels and hidden in the Morpine golf course, on the outskirts of London, where a Pro-Celebrity golf tournament would be held days later. Fenchurch East CID were informed about the disappearance into Britain and investigated by interviewing famous leads. It was Michael Parkinson who invited the DCI Hunt and his team to the Pro-Celebrity golf tournament where they discovered that the cup was not stolen but borrowed without permission to give to a young Eldrick Woods to hold. (A2A Sport Relief)
References
Edit
Ad blocker interference detected!
Wikia is a free-to-use site that makes money from advertising. We have a modified experience for viewers using ad blockers

Wikia is not accessible if you've made further modifications. Remove the custom ad blocker rule(s) and the page will load as expected.