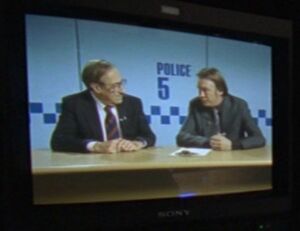 Shaw Taylor (born 26 October 1924) is a British actor and television presenter. He is best known for presenting Police 5 in the 1980s, a show which appealed to the public to help solve crimes. His catchphrase from Police 5 was "Keep 'em peeled!".
In an appeal to find out more information about the robbery of £20,000 from charity fundraiser Gil Hollis, DCI Gene Hunt appeared on Police 5 alongside Taylor (playing himself). However, Hunt humiliated himself by using the word "bastard" on live television. (A2A Series 1: Episode 7)
Ad blocker interference detected!
Wikia is a free-to-use site that makes money from advertising. We have a modified experience for viewers using ad blockers

Wikia is not accessible if you've made further modifications. Remove the custom ad blocker rule(s) and the page will load as expected.