Test Card Girl
Series:
Life on Mars (UK)
Actor:
Rafaella Hutchinson (Series 1)
Harriet Rogers (Series 2)
The Test Card Girl is a recurring fictional character of BBC One's science fiction/police procedural drama Life on Mars. The character is portrayed by Rafaella Hutchinson in Series 1 and Harriet Rogers in Series 2.
Biography
Edit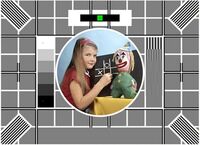 Background
Edit
The Test Card Girl was a being of Gene Hunt's World who took the form of Test Card F girl Carole Hersee. Similarly to the connection between the Clown and Alex Drake, the Test Card Girl often haunted Sam Tyler and intimidated him.
Ad blocker interference detected!
Wikia is a free-to-use site that makes money from advertising. We have a modified experience for viewers using ad blockers

Wikia is not accessible if you've made further modifications. Remove the custom ad blocker rule(s) and the page will load as expected.